Description
Cruise Industry News Quarterly is the leading magazine in industry reporting, covering the latest news, trends and behind-the-scenes developments worldwide.
In exclusive interviews and research, Cruise Industry News Quarterly Magazine covers all aspects of the industry – from issues and challenges to business strategy and growth potential.
Issues range from 128 to over 200 pages, with publication dates in January, March, July and October.
Cruise Industry News Quarterly Magazine covers new ships, shipbuilding, naval architecture, design, repairs and refurbishments, as well as marine and hotel operations, compliance, new technology, food and beverage, human resources, recruitment and training, safety and environmental protection, plus ports, destinations and itinerary planning.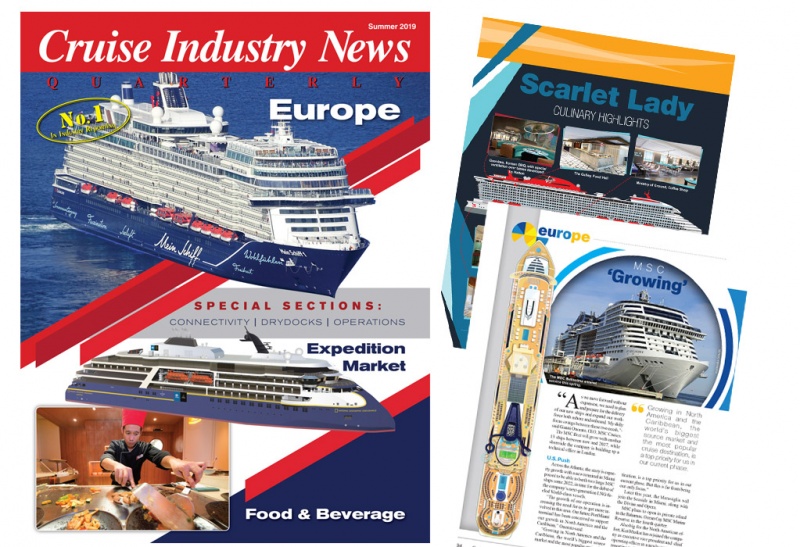 Exclusive industry coverage is based on Cruise Industry News' more than 30 years of experience and insight.
The subscription price is $75 within the U.S. and $110 to all overseas destinations for four issues. A two-year subscription (eight issues) is $100 in the U.S. and $150 for foreign subscriptions. Subscribers requesting digital access will receive the magazine in PDF format on a quarterly basis.
Production Schedule: Spring (April); Summer (July); Fall (October), Winter (December/January).
The Quarterly Magazine includes:
· company profiles
· new ships
· business models
· ship reviews
· new technology
· marine operations
· onboard services
· food and beverage
· human resources
· safety
· ports and destinations
· and much more
Contact us for back issues.